The first Luxury budget task of season 13 is here and we promise that it's a difficult one. The contestants have anyway received more clarity on their way forward post the nomination task. As the day progresses, Bigg Boss 13 announced the Bigg Boss Hospital task where two teams were made. Team A – Sidharth Shukla, Rashami Desai, Aarti Singh, Siddhartha Dey, Asim Riaz, and Koena Mitra and Team B Shenaz Gill, Mahira Sharma, Devoleena Bhattacharjee, Shefali Bagga, Dalliejt Kaur, and Paras Chabbra. Abu Malik is the Dean of the hospital and has to moderate the task. Starting with Team A, the contestants became patients who were to be treated for multiple things.
When the first buzzer rings, Paras and Devoleena who are the doctors select Siddharth Shukla and Asim as their patients. As the task begins, the patients are subjected to harsh treatments that include cow dung and mud. The next up to face the task are Aarti and Rashami as patients while Shefali and Shenaz are the doctors. They have to be treated for hearing disorder as a part of the task. What happens next takes everyone by surprise. Shenaz and Shefali make a personal attack at Aarti and interrogate about her relationship with Sidharth Shukla. How does she deal with that?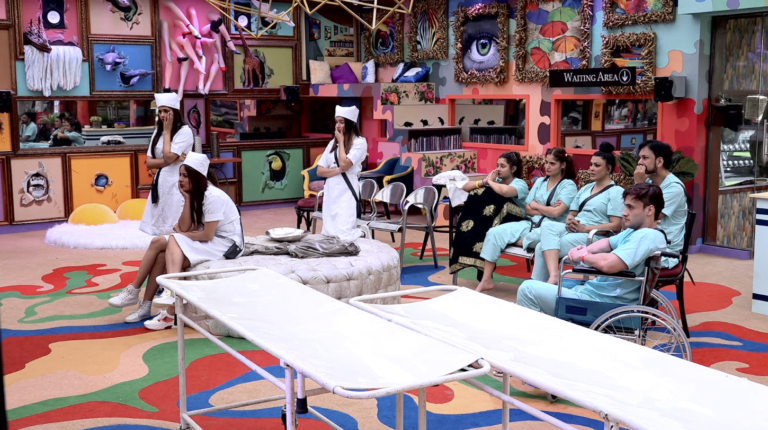 To know more about what happens on Bigg Boss 13 tonight, tune in to vivo V17 Pro presents Bigg Boss on your watchlist every Monday – Friday at 10:30 pm and  Saturday- Sunday at 9 pm only on COLORS   Catch the latest news and updates @BiggBoss on Twitter, ColorsTv.BiggBoss on Facebook, @Colorstv on Instagram and anytime on VOOT.